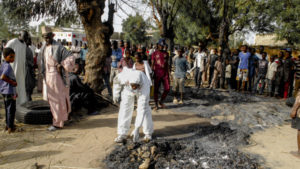 In a fresh multiple suicide bomb attack at the University of Maiduguri (UNIMAID) and Zannari Community in Maiduguri on Sunday night, more than 16 persons have been reportedly killed.
"The noise of the explosion coming from the university woke us up from the sleep around 10p.m." an eye witness narrated.
"Few minutes after, the explosion spread to other parts of the town, especially around London Ciki," a resident of Mairi near the university said.
"The explosion led to a stampede in London Ciki as residents abandoned their homes for fear of being affected,". Eyewitness revealed that most residents in the densely populated London Ciki slept in the open near the Gwange Cemetery for fear of being attacked.
But some residents of Zannari gave a different version of the incident.
Malam Lawan Modu said that the area was invaded by suspected suicide bombers who detonated their explosives in four different locations in the community.
"We had explosions in four different locations in Zannari yesterday, the first explosion happened around 10:30 pm. "The other explosions took place within short intervals," Modu said. He said about 10 people were killed in the attacks.
So many people were affected, in fact, we evacuated about 10 bodies in the morning. Several others were also injured," Modu said. Mr Damian Chukwu the State's Commissioner of Police confirmed the incidents, saying that 16 persons were killed.
"All in all, 16 persons including some suicide bombers died in the multiple suicide attacks, while 13 others were injured. "Yesterday at about 2221 hours, a male suicide bomber gained entry into the premises of UNIMAID and detonated explosive on his body near the Rapid Response Service office building.
"The bomber died while three university security personnel on duty were injured," Chukwu said. He said, however, that one of the injured security personnel later died at the hospital.
"One of the injured security personnel a female known as Becky Edubi later died at the hospital. "At about 2230 hours the same night, four female suicide bombers infiltrated Zannari Community in Gwange general area.
"Two of the suicide bombers detonated explosives on their bodies in two different residential buildings killing eight persons and injuring 11 others.
"The third suicide bomber detonated his explosive in another
qarea killing himself alone. "The forth female suicide bomber was arrested that same night but she died as a result of injuries she had sustained," Chukwu said.
He said that another set of bombers later returned to the university around 0408 hours in the morning. "Today at about 0408 hours, two suspected female suicide bombers detonated explosives on their bodies within the premises of the university.
"One detonated close to the Entrepreneurship Centre killing herself alone with no other casualty, while the other detonated behind Works Department Complex also killing herself alone," he said.